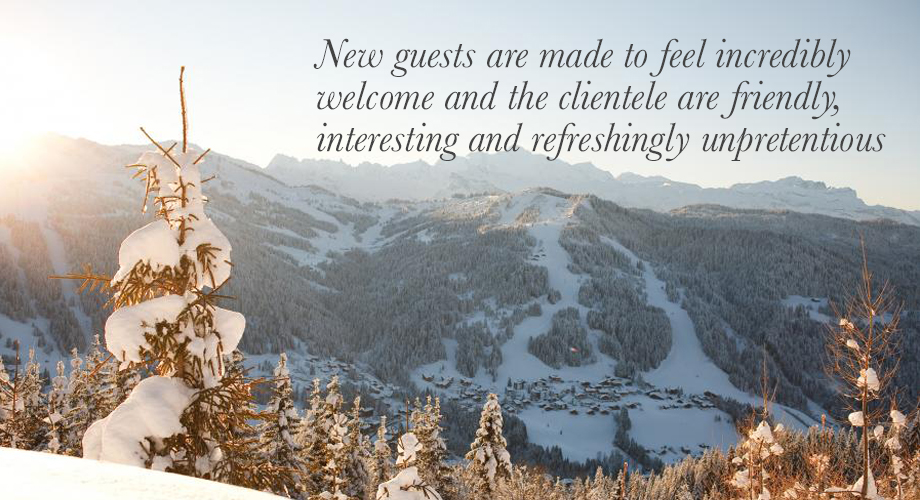 8.00 – Wake up, ohhh.. this bed is so comfortable.. how will I ever get up?
8:20 – An invigorating shower….just the thing! And so much lovely hot water!
8:50 – Down to breakfast. Freshly squeezed orange juice, or organic apple juice, freshly baked croissants and fruit packed home-made jams. Think I'll have the eggs Benedict breakfast special with the spelt muffin, I am sure I can ski that off!. Yesterday I asked for scrambled eggs and smoked salmon. Passed on the yogurt and local cheeses, but their home-baked breads are crusty and delicious.
9:20 – Our Ski Guide has just said hello, he is looking as cheery as ever. The weather looks slightly misty, but apparently it is already clear and sunny up the mountain, so we are heading out to explore the Portes du Soleil and will ski to Switzerland, apparently no passport needed. We plan today's route carefully, lunch at the Goat village at the quaint old farmhouse is a must. The family have been running that place for four generations.
9:40 – Boots & skis on. We walk across the road to the lift.
9:45 – On the lift. It's a slightly later start than usual, so we've agreed on only one mulled wine stop before lunch.
Ski down to the 'bowl' at Chavannes, and explore the many runs including the Rosta. Ski to Grandes Pres, a quick coffee, then up to Chamoissiere, the highest point in the Les Gets area at 2000m –Wow! Isn't that Mont Blanc we can see? Photo opportunity, photo opportunity.. All together now and smile. Ski across to Morzine.
Lunchtime
12:30 – Ahh – stretched out in the sun on the terrace of the restaurant with a bottle of mineral water downed in a minute, then a nice bottle of Rose between the four of us, so skiing home; not a problem!
Afternoon
1:40 – Skis on – this is the tough part, after lunch. Our guide takes us down through the trees – the air is bracing. What a stunning place!
Head to Super Morzine, then up and over the Chavannes, and back to La Turche and home for a very scrumptious welcome afternoon tea.
4:30 – We're back – just. I'm exhausted, and decide to lie in the bath and soak for half an hour, with their lovely handmade bath salts with wonderful calendula and arnica oils blended in for those tired muscles. Put on a fluffy robe, and Jo Malone Lime basil and Mandarin body cream. Such a delicious smell! Head to the salon for tea and freshly made apple cake by the fire. Just enough energy to walk downstairs to the sauna. The sun is setting, snow clouds are drifting up the valley and a few flakes are falling onto my champagne glass. I'll have a hot stone massage tomorrow.
6:00 – Lie down on the bed… Mistake – I'm not sure I'll ever get up again. But I know that little Parisian bar in the salon upstairs is waiting for me. Wonder what the cocktail of the evening might be? hmmm..
Evening
7:30 – Descend to the bar – champagne please. Mmmm…biscuity, yet another find from a small vineyard. Sit around the fire and talk about the hard skiing. But wasn't it fun?
8:00 – Dinner. It's started to snow outside, candles flicker, a sumptuous and delicious meal again, the bottle of Puligny Montrachet is tres interestant. As is the conversation.
9:30 – Some of the others seem headed for the salon downstairs for a cognac. I might join them. On the other hand, I've just enough energy for a game of scrabble by the fire. An odd one though – it's the French version, and all the easy letters have high values and there so many E letters. A winner again. I head for bed, and a blissfully deep sleep.
11:30 – John has just arrived from his cognac tasting session and is checking his email. I must try to be up earlier tomorrow. Maybe not. I must remember that I am on holiday!